The Mark of Accreditation
The Mark of Accreditation is a logo indicating that a Costs Lawyer is accredited to provide training by the Costs Lawyer Standards Board. You can use it as a badge of quality. You might want to use it on your email signature, letterhead, website or promotional material.
The Mark can be used by all Accredited Costs Lawyers. Before you use the Mark, you will need to read and understand the Terms of Use set out below. When you use the Mark, the Terms of Use will apply to you.
If you wish to use the Mark please download the image to the right. (To do this click on the image with the right hand mouse button and select 'save as'.)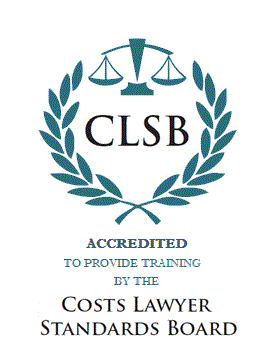 Use by employers
The Mark of Accreditation is intended primarily for use by you personally.
The Mark of Regulation can be used by your employer – at your discretion – to promote your accredited status, so long as this does not cause confusion for clients, prospective training participants or other members of the public about the scope of accreditation. By way of example, generic use of the Mark on the website homepage of a business is likely to be misleading. However, use of the Mark on a page of the same business' website that relates only to the Accredited Costs Lawyer is less likely to be misleading.
Clause 11 of the Terms of Use covers this issue.
Terms of Use
Please use the Mark of Accreditation only in accordance with the Terms of Use. Non-compliant use has the potential to be misleading and we will take action accordingly.
We might need to update the Terms of Use from time to time. If we make any material changes to the Terms of Use, we will notify all Accredited Costs Lawyers in writing (for example, on our website or in our newsletter).
If you have any questions about how to use the Mark of Accreditation, please contact us.
CLSB Mark of Accreditation – Terms of Use